I Ganesha Puranam og Mudgala Puranam er der beskrivelser af Ganesha og hans to hustruer Buddhi (også kaldet Riddhi) og Siddhi. I Shiva Puranam beskrives historien om hvordan han bliver gift på følgende måde:

Da Shivas og Parvatis sønner, Ganesha og Shanmukha (Murugan), var blevet voksne, tænkte forældrende på at få dem gift. En dag sagde de til deres sønner; "Drenge, I skal rejse Jorden rundt, og den af jer der først når Jorden rundt, bliver gift. Er i enige?". Drengene accepterede.

Shanmukha ville vinde, så han satte sig op på en påfugl, som var hans transportmiddel, og rejste afsted så hurtigt som muligt. Men den tykke Ganesha fandt konkurrencen lidt svær, men han ville også gerne vinde. Han tænkte et øjeblik, og fik en ide. Han tog et bad, og derefter gik han rundt om sine forældre syv gange med hengivenhed og bøjede sig for dem.

Shiva og Parvati blev overraskede over hans handling, og kiggede smilende på hinanden. Derefter spurgte Shiva; "Ganesha, skal du ikke starte på din rejse?"
Ganesha var meget klog, og sagde; "Fader, alle verdener er inden i jer to. Det fortæller vedaerne og puranam. Ved at gå rundt om jer to har jeg fuldført konkurrencen. Derfor har jeg også vundet over Shanmukha."
Ganesha havde ret, og Shiva og Parvati blev meget glade for at se at han var så klog. De fejrede hans bryllup, og Ganesha blev gift med Siddhi (succes) og Riddhi/Buddhi (viden), som var Vishwabrahmas to smukke døtre. I nogle historier fortælles det, at Ganesha har 2 sønner, Kshema og Labha.

I Ganesha Puranam i kapitel I.18.24-39 fortælles det, at Brahma som en ære tilbad Ganesha, og under denne puja (en form for gudstjeneste), får Ganesha Buddhi og Siddhi til at komme syne, så Brahma kan tilbyde dem tilbage til Ganesha. Ganesha accepterer dem som en offergave. I en anden variant af historien fortælles det, at Buddhi og Siddhi bliver født af Brahmas sind, og derefter givet til Ganesha.

Den som tilbeder Ganesha med hengivenhed, får automatisk velsignelse af hans to hustruer.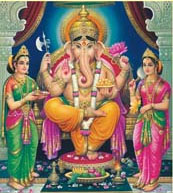 ---
Kilder:
http://www.webonautics.com/mythology/ganesha6.html
http://www.mahaganapathi.info/Buddhi_Siddhi_and_Riddhi.htm