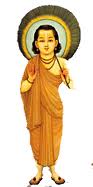 Vishnu's 5. avatar, som dværgen Vamana, siges at have fundet sted som den første avatar i menneskehedens 2. tidsalder (Treta Yuga). Historien handler om hvordan Vamana besejrer dæmonkongen Bali.

Dæmonkongen Bali blev så magtfuld, at han besejrede alle planeter og tvang Indra, der var paradisets konge, ud af hans kongedømme. Halvguderne bad Vishnu om at hjælpe dem, og Vishnu tog form som den smukke dværg Vamana.

En dag tog Vamana ud til dæmonkongens hof klædt ud som en brahmana (præst). Det er en konges pligt, at give noget til en brahmana i velgørenhed, så Bali tilbød Vamana, at han kunne få det han ville have.
Vamana svarede, at han ikke ville have andet end et stykke land der svarede til hans tre skridt. Men Bali svarede, at han kunne give ham en hel ø, og at ingen, der fik noget i velgørenhed af ham, nogensinde skulle gå utilfreds derfra og komme og spørge igen, og at Vamana derfor kunne spørge om alt det han ville.
Vamana svarede, at hvis han ikke engang kunne nøjes med jord, der svarede til tre skridt med hans fødder, så ville han heller ikke være tilfreds hvis han fik hele universet eller bare én ø.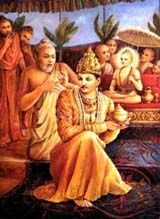 Da Bali's guru (vismand) hørte dette, advarede han Bali om ikke at give det, som Vamana bad om, da vismanden havde regnet ud, at Vamana var Vishnu i forklædning. Men Bali fortalte, at han ikke kunne trække hans ord tilbage, da han så ville fremstå som en løgner. Så han fortalte Vamana, at han måtte tage de tre skridt, og det der svarede til det.
Pludselig begyndte Vamana at vokse, og han voksede og voksede så meget, at han fyldte hele universet. Alt var indeni ham - Jorden, havet, fuglene, mennesker og planeter.
Hans fod stod på jordens overfalde, hans vejrtrækning var vinden, hans hår var skyerne og hans øjne var solen. De lavere planeter lå under hans fodsål, mens de øvre himmelske planeter lå over hans hoved. Så tog Vamana tre skridt.
Med hans første skridt dækkede han hele Jordens overflade, og med hans andet skridt dækkede han alle himmelske planeter og hans tå gennemtrængte kanten af universet, så noget af vandet fra skabelsen strømmede ind.
Vamana sagde derefter til Bali, at han nu havde taget to skridt, og alt nu var dækket under det, og at Bali derfor måtte tænke over, hvor han så skulle placere det 3. skridt henne, som Bali havde lovet.
Bali svarede: "Kære Gud, du må placere det 3. skridt på mit hoved".
På trods af at Bali var en dæmonkonge, respekterede Vishnu hans ærlighed og hans bedstefar Prahlads evner, og efterlod Bali i de nedre verdener (pathal).
Budskabet:
Historien om Vishnu's 5. avatar som dværgen Vamana er en påmindelse/advarsel til tilbederne om, at indtil eller medmindre man har overvundet sin stolthed og åndelige arrogance, kan man falde dybt, når man mindst venter det. De hengivne skal altid være ydmyg og fortsætte med at analysere sig selv og adlyde Gud. Med solthed og arrogance kommer man nemlig ikke frem i livet.
Historien om Vamana i forbindelse med Darwins evolutionsteori:
Vishnus 10 avatarer tolkes også som et symbol på Darwins evolutionsteori. Vishnu's 4. avatar var som menneskeløven, Narasimha, der symboliserede forstadiet til mennesket fra dyrene.
Med dværgen Vamana, som den 5. avatar, ser vi hvordan mennesket tager form, og adskilles fra dyrene. De kommende avatarer symboliserer den videre udvikling.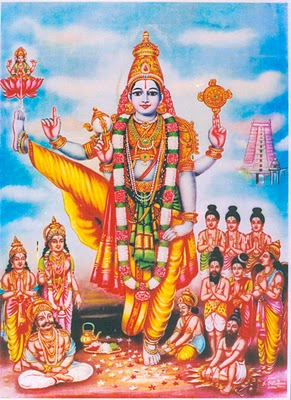 ---
Kilder:
http://mailerindia.com/god/hindu/index.php?vish10
http://www.bronzecreative.com/vamana-avatar-vishnu-dwarf-brahmin.html
http://en.wikipedia.org/wiki/Vamana