Detaljer

Kategori: Guder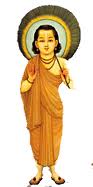 Vishnu's 5. avatar, som dværgen Vamana, siges at have fundet sted som den første avatar i menneskehedens 2. tidsalder (Treta Yuga). Historien handler om hvordan Vamana besejrer dæmonkongen Bali.

Dæmonkongen Bali blev så magtfuld, at han besejrede alle planeter og tvang Indra, der var paradisets konge, ud af hans kongedømme. Halvguderne bad Vishnu om at hjælpe dem, og Vishnu tog form som den smukke dværg Vamana.

En dag tog Vamana ud til dæmonkongens hof klædt ud som en brahmana (præst). Det er en konges pligt, at give noget til en brahmana i velgørenhed, så Bali tilbød Vamana, at han kunne få det han ville have.
Vamana svarede, at han ikke ville have andet end et stykke land der svarede til hans tre skridt. Men Bali svarede, at han kunne give ham en hel ø, og at ingen, der fik noget i velgørenhed af ham, nogensinde skulle gå utilfreds derfra og komme og spørge igen, og at Vamana derfor kunne spørge om alt det han ville.