Detaljer

Kategori: Døden og Sjælen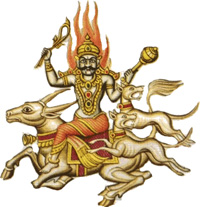 I hinduismen eksisterer et dødsrige, som bliver ledet af Yama. Han var den første dødelige der fandt vej til dødsriget efter sin død, og blev derfor den der viser vejen for alle andre, der dør, og herskeren af dødsriget. Han bliver kaldt Kong Yama og beskrives i de hellige vediske skrifter fra omkring 1500-1000 f.Kr. Rig Veda skriver, at alle der har været gode mennesker, vil få adgang til Yamas paradis, og opnå alle paradisets goder.

Yama siges at have to hjælpere i form af to hunde, som beskrives som "4-øjede vogtere over stien, og som holder øje med mennesket", og Yama rider på en bøffel. Yamas dødsrige beskrives som et godt sted at komme hen, og Yama siges at være den der dømmer mennesket efter dets karma. Opholdet i dødsriget er kun midlertidigt indtil man igen bliver genfødt på Jorden.